Student Group
Chicago Chinese Cultural Institute offers the one-hour Chinatown walking tour for student groups at a discounted rate year round.
Our tour includes:
Historical Commercial Wentworth Avenue, Chinatown Gate, Nine Dragon Wall, Landmark On-Leong Merchants Association (Pui Tak Center today), Chinese Buddhist Temple, St. Therese Catholic Church
Chinese Zodiac Square, Chinese Marble Lions, Four Greatest Inventions of ancient Chinese, Chinatown Mural, Ping Tom Memorial Park (Optional, with 20 minutes extra time and $20 extra cost)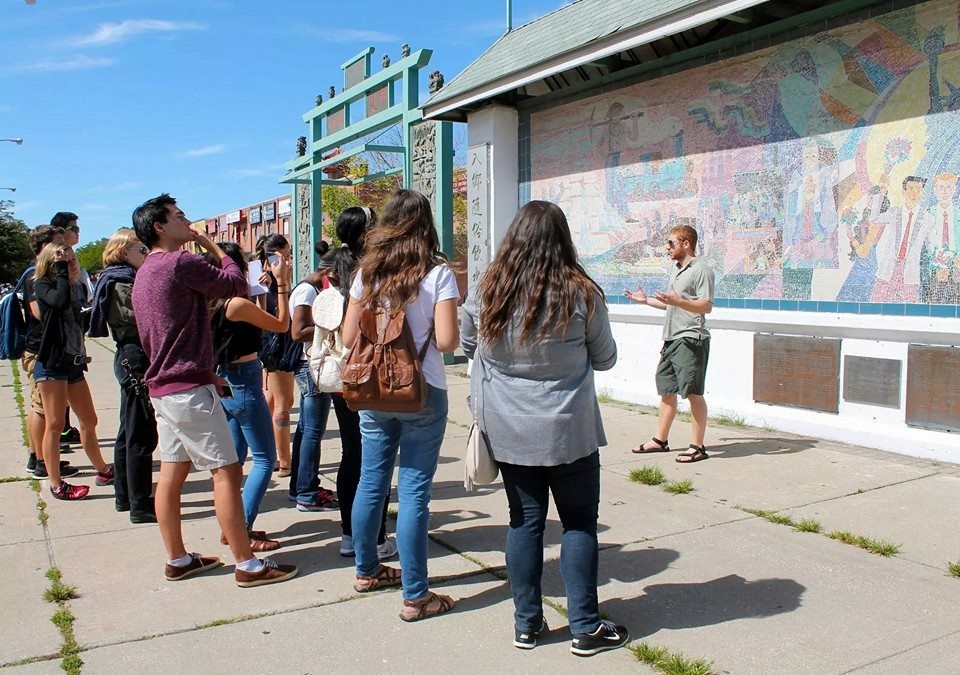 How to reserve:
Please prepare to answer the following questions when reserving the tour by phone or email: name of school, name of contact person, phone number, email or fax number, date and starting time of the tour, size of the group, lunch budget if any. Please let us know if you have any special requests.
Cost:
For student groups: $80/group up to 35 people. We can supply multiple tour guides. Each tour guide will cost an extra $80. To include Ping Tom Park in the tour, there will be 20 minutes extra time and an additional charge of $20. Your payment is due on the tour date.
Lunch reservation:
We can help set up a group lunch in a Chinatown restaurant. The lowest cost for lunch is $8/person including tax and gratuity. Usually eight dollars lunch includes egg roll, 2 to 3 stir-fried dishes such as Sweet & Sour Chicken, Mongolian Beef, etc., and fried rice. Tea and ice water are also included. Actual menu may vary. Please notify us ahead of the time if there's any special food requirement.
Sample schedule: (you may choose your own time):
10:00a.m. Arrive in Chinatown, start Chinatown tour
11:00a.m. Group Lunch
12:00p.m. Explore Chinatown stores on your own
1:00p.m. Leave for school
Where:
Chinatown Square by the Zodiac Animal Statues (in front of 2126 S Archer Ave. Chicago IL 60616)
Other available cultural programs:
We can also supply other programs for a fee, such as Martial Arts orTaichi demo and exercise, calligraphy or painting demo and exercise, Chinese kite coloring, dumpling-making programs, etc. Please call or email to inquire details.
Contact Us
Please provide your name, date, number of party